The Civil Procedure Rule Committee has now published drafts of the amended Civil Procedure Rules to implement the extension of Fixed Recoverable Costs (FRC) that is scheduled for introduction on 1 October 2023.
Read next


The Civil Procedure Rule Committee has now published drafts of the amended Civil Procedure Rules to implement the extension of Fixed Recoverable Costs (FRC) that is scheduled for introduction on 1 October 2023. These Rules will introduce the following changes:
The creation of a new Intermediate Track
FRC will apply to all cases on the Fast and Intermediate Tracks (with limited exceptions)
A 35% uplift on FRC, replacing indemnity costs, for claimants who are successful at trial
Limitations on the costs that can be recovered in multiple claimant cases
The draft rules are available to view on the government website.
Fast Track FRC
The rules introduce four complexity bands (the full descriptions can be found in CPR 26.15), which for ease of reference, we summarise as:
Band 1 – RTA claims with no injury and simple debt claims (this would include 'bent metal claims' and credit hire claims).
Band 2 – RTA injury claims that fall under the current RTA FRC.
Band 3 – includes EL/PL claims that fall under the current FRC and housing disrepair claims.
Band 4 – includes employers' liability disease claims, professional negligence and other more complex claims.
The court will allocate a claim to one of the complexity bands at allocation – the parties will have to submit which complexity band is applicable when filing their directions questionnaire.  The court can re-allocate to different track or complexity band subsequently if there is a significant change of circumstances.
Progression through the FRC stages is unchanged from the existing Fast Track FRC:
Pre-issue
Post-issue but pre-allocation
Post-allocation but pre-listing
Listed for trial
Such stages obviously will have an influence on parties' behaviours with defendants seeking to settle before the next staged increase and claimants the opposite.
Intermediate Track
The new Intermediate Track is generally for claims valued between £25,000 and £100,000 (which will reflect how many insurers organise injury claims departments and to a lesser extent, claimant firms).
The full scope of the track can be found in CPR 26.9(7), but notable additional criteria are that the trial will not last longer than three days and the parties will not each have more than two experts giving oral evidence at trial. It is notable that the Intermediate track is intended for cases involving no more than two defendants – in RTA claims where there is a liability dispute between two drivers, could claimants include both of their respective insurers simply to increase the number of defendants to four in order to argue that FRC should not apply.
There are also four complexity bands for Intermediate claims, but they do not follow the same categorisation as the Fast Track:
Band 1 – includes claims where there is only one issue, eg claims where liability is admitted or quantum agreed and where the trial will not exceed one day.
Band 2 – any less complex claim where more than one issue is in dispute, including personal injury claims where liability and quantum are in dispute.
Band 3 – includes noise induced hearing loss, other employer's liability disease claims and any more complex claim where more than one issue is in dispute, but which is unsuitable for assignment to complexity band 2.
Band 4 – claims which are unsuitable for assignment to complexity bands 1 to 3, including any personal injury claim where there are serious issues of fact or law.
Progression through the stages of FRC is detailed in TABLE 14: rule 45.50 of PD 45, slightly simplified, the stages are:
Pre-issue up to and including the date of service of the defence ("S1").
The date set for CMC or the order giving directions (if there is no CMC) ("S3").
Inspection of documents ("S4").
Service of witness statements or expert reports ("S5").
Pre-trial review or up to 14 days before the trial date, whichever is earlier ("S7").
Up to the date of the trial ("S8").
Claims falling in the immediate track will result in the biggest shift in behaviours given that, at present, multi-track personal injury claims are claims where claimant firms traditionally begin to make significant profits per claim. It is useful to set out the proposed fees for the key stages (we have ignored special legal advice):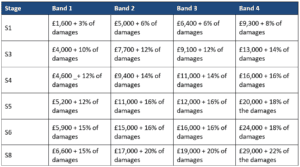 The above table illustrates that settling pre-issue results in notably lower costs than post-litigation.  Given the work required for a claimant to go from a pre-litigation stage to a post litigate stage, claimants will be keen to issue whenever possible. Defendants will therefore be wise to get definitive offers made pre-issue. To what extent will claimants provide the evidence to enable such 'definitive offers' to be made pre-issue? The FRC do not encourage front-loading of cases as the current cost rules do.
These rules will drive solicitors to be more efficient, particularly claimant personal injury lawyers (where the current system encourages inefficient and 'overworked' cases – there are no incentives for being efficient at all).  Solicitors acting for insurers will be far more used to working to a fixed cost regime.
For both claimants and defendants, MI that records the settlement point of a case and the complexity band will be hugely important, not just for the future but for the past too to attempt to work out where the settlement 'sweet spot' may be (and it is not likely to be at different points for different bands/values of claim within the intermediate track). For a claimant lawyer that is a balancing act between the work undertaken verses the costs recovered.  For an insurer that will involving a balancing act between what is paid in damages verses costs in order to minimise the claims spend but avoid encouraging 'bad' behaviours.
As with the current regime, a defendant will inevitably benefit from an early settlement and a claimant lawyer potentially benefits from a late acceptance.
Multiple Claimants
Where the same solicitor acts for more than one claimant in proceedings, the court may order that only one set of full fixed costs will be allowed a further 25% of the allowed costs being added for each additional claimant, the claimants being jointly entitled to the total costs.  That is likely to mean that solicitors simply issue separate proceedings for different claimants, including where, for instance a couple have been injured in the same collision and their losses overlap. There are no rules to prevent such behaviours.
This provision will doubtless be particularly controversial and generate satellite litigation as it has been made discretionary and therefore different approaches by District Judges are virtually inevitable.
Indemnity Costs
Under the existing FRC regime, a claimant who is awarded equal to or more than their own Part 36 offer at trial can expect to be awarded indemnity costs, assessed on an hourly rate basis, from the expiry of the time for acceptance of that offer – the current FRC no longer apply to that element of the costs.
Under the new rules, such claimants will be awarded an additional 35% of the FRC that have been incurred since the expiry of the offer. That ought to encourage claimants to make more realistic offers at an earlier stage of proceedings (in theory) but we do not consider that they would do so prior to commencement of proceedings – offers may well be timed to be made only at the point a case tips into the next stage.
Comment
Overall, these reforms (which have been a very long time coming) are undoubtedly positive for insurers, indeed we expect there to be considerable objections from claimant representatives and their professional bodies.  Moreover, there will inevitably be considerable attempts to exploit loopholes in the rules to increase the recoverable costs. Litigation to resolve ambiguities and gaps in the rules (which inevitably seem to arise with every new set of rules introduced) such that litigation in respect of these points will be inevitable.  Particularly with the new Intermediate track, there will be new and evolving behaviours to maximise the benefits/minimise the disadvantages that come from the rules.
It should be borne in mind that these are draft rules that could be modified although significant changes seem unlikely at this stage. We have sought to summarise the impending rule changes. There is plenty more detail to be considered in the rules themselves and their likely impact in different types of claims. We will be providing further comment and analysis in the near future.